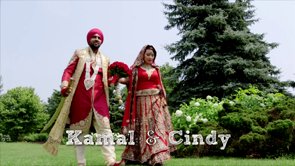 Why this video is special is because it was a gift from Cindy's close friend, and MC, Rabina and the bridesmaids Manjot, Jessy, Manpreet, and Sheetal. I was filming Cindy's mehendi and vatna ceremony when Rabina brought up same day edits. Once she found out that the couple did not purchase a highlight video, an idea came to her that she and the other bridesmaids could give that as her gift.
This was a first time for me and I just had to up my game another 50% (not that we don't normally do a great job lol). I don't have to tell you about whether they like it or not as I could see the crowd's reaction while I filmed them watching. I also wanted to thank the MC's for giving a real nice shout out to us for creating a mind blasting (I just had to add that in!) video.
Art of Video is truly a team effort. Long gone are those dayz where 1 videographer could do this on his own. Thanks to Tej, Roger, Harb, in being involved with the production and capturing of this event. You guyz did great!
Art of Video Inc.
Cinema + Photo
http://artofvideo.ca
Call: 289.752.6051
For More Video : Punjabi Wedding Video